Spring Kits – Raised Coils – H/D Leaf
Shock Absorbers – Steering Dampers
Coil Overs – Struts – Torsion Bars
Extra Heavy Duty Leaf Packs
Suitable for Commercial Utes Wanting to Utilize their FULL Load Carrying Capacity, Limit Body Roll and Increase ON and OFF-Road Handling and Steering maintaining correct steering geometry

Dobinson – Spring Coil Package
Dobinson Shock Absorber and Coil Springs packages are available for Nissan Patrol GQ GU Wagons and Toyota Landcruiser 80 & 105 series wagons.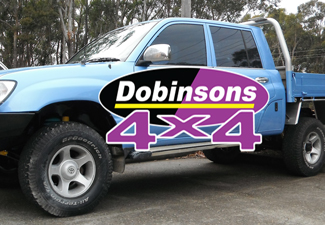 Dobinson – IFS Torsion Bar Front End Rear Coils
Dobinson Torsion Bars for IFS (Independent Front Suspension) vehicles. Removes the Toyota factory nose-dive, increases height and handling both on and off road.