Designed, developed and tested in Australia by Dobinsons Spring & Suspension, in house suspension design engineers, Dobinsons 4×4 shock absorbers are designed and tested to perform in the harshest conditions right across the world.
Dobinson Twin Tube Nitro-Gas
Dobinsons Suspension export to over 40 countries worldwide from their Australian head office, the importance of quality is at the forefront in the complete design and manufacturing process. This ensures every shock can withstand the blistering heat and corrugations of the Australian outback right through to the subzero temperatures of a Russian winter.

* Nitrogen Gas Charged
* Superior Design
* High Quality Parts
* Manufacturing Process
Dobinsons Twin Tube Nitrogen Gas charged shock absorbers are made from the world's highest quality external and internal parts sourced worldwide. They provide a significant increase in performance over the standard shock absorbers. Original equipment shock absorbers are prone to shock fade and when a vehicle is loaded simply cannot cope with the additional weight and the harsh condition that 4X4 owners love to put them through. Dobinsons twin tube shock absorbers feature larger bodies, larger bores and increased valving performance to dramatically improve vehicle handling and control and reduces shock fade.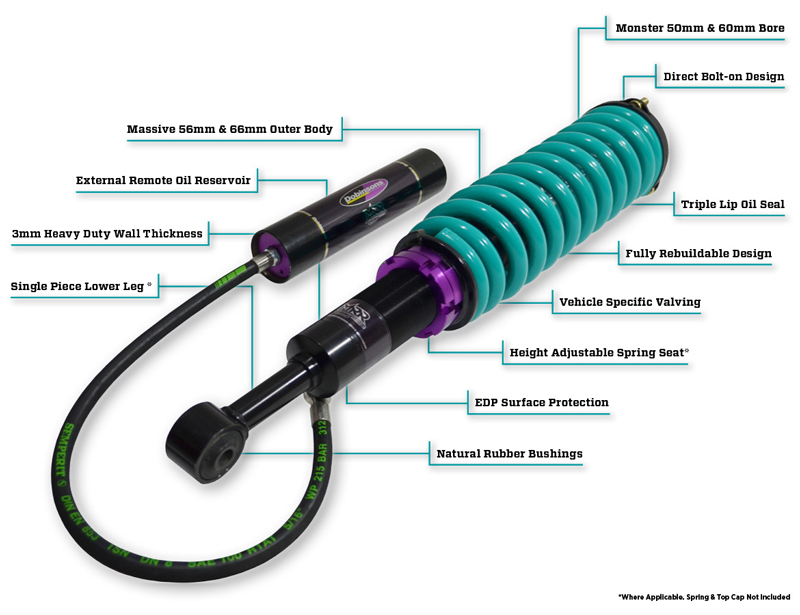 Remote Reservoir Monotube
With serious 4×4 owners now pushing their vehicles through harder, harsher terrain with more accessories fitted to their 4×4's than ever before Dobinsons saw the need for a no compromise, performance engineered shock absorber that offers the ultimate in performance.
* Monster 50mm & 60mm Bore
* External Remote Reservoir
* 3mm Heavy Duty Wall Thickness
* Fully Rebuildable
* Vehicle Specific Design
Over four years of research, development and testing was undertaken to produce Dobinsons Monotube Remote Reservoir shock absorbers. Dobinsons MRR Series introduces premium quality build design and features to achieve the ultimate in performance and durability. 50mm and 60mm extra large bores, combined with remote oil reservoirs, provide the perfect housing for an enormous oil capacity and surface area to resist shock fade and maintain vehicle handling.
Unlike some other brands, each Dobinsons shock absorber is designed specifically for the vehicle and application and is designed to perform best when matched with Dobinsons Coil Springs. In some cases multiple options are available to ensure the best possible ride, handling, comfort and performance is achieved for the complete suspension system.