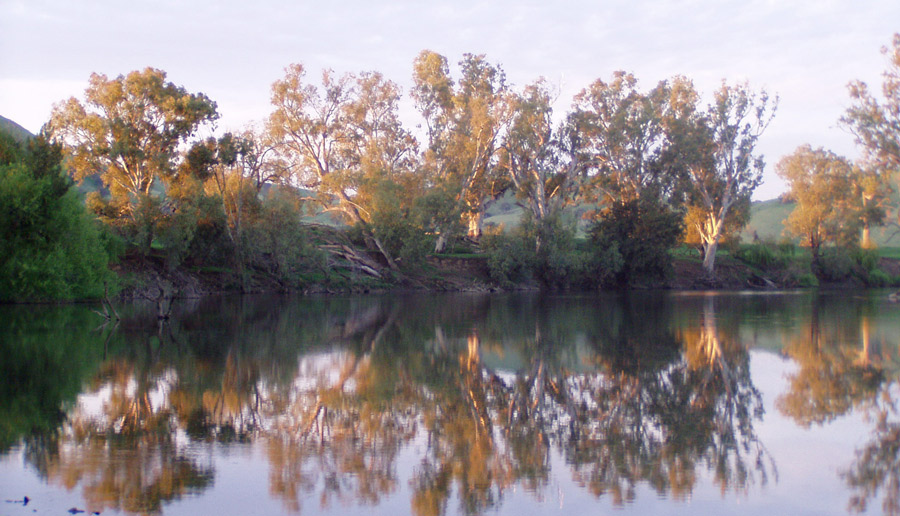 Murrumbidgee River Free Camp
October 1, 2009
Childowla NSW – Murrumbidgee River
30 September 2011 by Admin

Childowla near Bookham – Murrumbidgee River
downstream Burrunjuck Dam

Riverside Camping at its best

Childowla is a quiet fishermans favorite on the Murrumbidgee River near Bookham.
Whilst these photo's were taken during drier times, the large grassy area allows plenty of room for campers. 
There are no facilities at this location, so you must be totally self sufficient and take all rubbish with you.
Remember fishing requires a licence and Fisheries Rangers patrol this spot weekly.

Kayak or Canoe

The Murrumbidgee is very fast flowing as you are close to the outlet at Burrunjcuk Dam, and is popular with kayakers.
Be very careful with young ones swimming here. It is rocky and slipping over in this fast flowing water could be dangerous. There are areas further downstream that have slower moving water and would be more suitable for swimming. However this area doesn't have the casurinas for shade and it is quite warm here een in autumn.




Making Memories

We spent a peaceful 10 days here, and during that time we only had a couple of visitors. There was only two other small groups camping further upstream, nowhere close-by.

Access is via private property along Fallon's Road, and whilst access was still available on our last visit I can't guarantee that the land holders along this road will still allow campers access. Worth a google search if you're still interested in camping at this spot.

Update – My last search was March2011

The land has being sold yet there were a lot of campers still down there.
You can still camp at Nanangroe Reserve and the Rapids.



Also check the "Fishing the Murrumbidgee" books available online or at good fishing stores.