Northern NSW – Touring and Camping Trip
First night at old faithful Gunning, nice cold night and early morning, the sun was most welcome.
Warmed up with a hot breakfast.
From here we headed up to Molong to the start of the paddock art trail through Yeoval and onto Dubbo via Wellington, the scenic route.
Turning off the highway at Molong towards Yeoval and Cumnock, the amazing creations soon began to appear.
Just look at some of the funny and very clever sculptures that line the road. We couldn't stop and take pictures at all the great sculptures, the road is quite narrow, and our convoy isn't really little.
Stopped to snap only a few. These very beautiful and imaginative animals were made by the local farmers as a distraction from the hard times during the recent drought.
Follow Link to website for Further Info
animalsonbikes.com.au – Paddock Sculptures NSW Central West
Next camp – Terramungamine Reserve
.
Dubbo wasn't far, and we wanted to get a camp spot before they all fill up at Terramungamine Reserve. Swam here many times as a young girl, never thought it would ever be this popular.
Alas most of my favorite swimming holes along the Macquarie River are now over crowded by grey nomads on the road full time :(
Now I'm just a touro too ;( bugger
Tomorrow we will head north from Dubbo along the Castlereagh to Gilgandra, Gulargambone and Coonamble was like stepping back in-time 40+yrs, to school holidays accompanying Dad on his District rounds.
Next camp – Piliga Bore Baths
Lunch at Piliga Pub then out to the bore baths to set up camp and have a float in the hot springs. Another very busy camp, and full of big rigs set up for more than just a night. We were set up at the far end of the reserve, which was quiet and against the boundary fence.
Next morning we stopped for a look around at Come By Chance on our way to the Ridge.
Not much happens here these days.
Very tiny locality, lots of old junk and trucks rusting slowly away in the weeds.
Lunch stop under these huge river red gums.
What a pretty spot just outside Walgett.
Next Camp – Ligtning Ridge
Finally here, after a very long detour, and through some really shitty back roads. We pulled up here and found we had blown a shock on the camper, oh well time for a new set anyway.
Very busy at Grawin today, so onward we go.
Love this sculpture – lots of recycling and re-purposing.
Lots
of Recycling going on out here.
I don't think any of these would pass
council inspection.
Great to see Aussie ingenuity
building something out of nothing.
I very much doubt this will ever be finished.
Just another great quirky Lightning Ridge thing.
When the sun goes down everyone is sitting on the hill taking photos. Great way to end the day.Whilst you sit sipping your favorite tipple, the kids can have a play on the maze.
Another busy day exploring Hebel tomorrow.
Taking a day trip to Hebel on the Qld border was well worth the drive. Stopping on the way to admire the Narran River at New Angledoon, what a wonderful water crossing, now by-passed with a bridge. See happy snaps below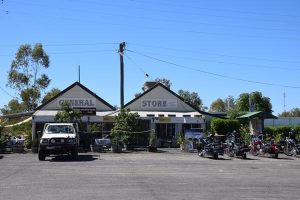 The
General Store
had
great
food, in a lovely dinning area complete with wonderful 1897 floor boards. Better still you can camp there as they are also a caravan park.The Pub was quiet for a quick beer, and the lawn in the beer garden outside was lush and green.
Just a few extra happy snaps